Comparing brands is one thing you cannot fail to do when you are using e-readers. If you have just made the transition from reading traditional books to reading ebooks, you certainly would want the best performance—something that looks similar to your traditional books. This led me to pitch the new Kobo Clara against the Amazon Kindle Oasis 2.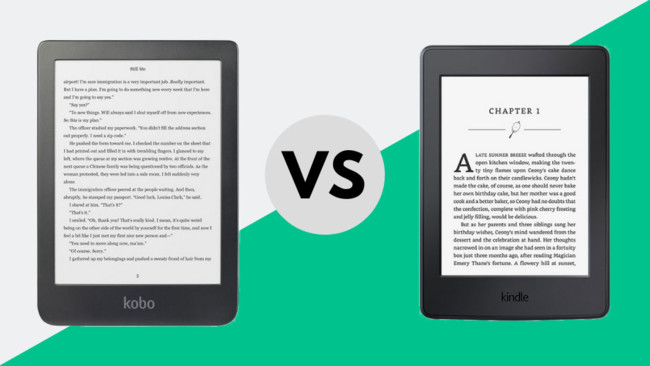 These two gadgets represent the newest generation of e-readers. The Amazon Kindle Oasis debuted in 2017 but the Kobo Clara HD hit the market in mid-2018.  E-book readers have been left to make the tough decision between these two competing brands. While the new Clara Kobo HD focuses on the Comfortlight PRO technology, Oasis promotes its waterproof nature, has a larger screen, and can be used to play audiobooks.
If there is one thing I love about the competition between the two companies, it is its ability to inspire great improvements in e-reader technologies. For example, Kobo Aura One which was released in 2016 was waterproof and the Amazon brought that feature to Kindle Oasis in 2017 along with Bluetooth technology that enabled pairing with headsets to listen to audiobooks. Rakuten also partnered with Walmart to launch Walmart eBooks with the sole aim of competing with Amazon.
What Is Underneath The Beautiful Design Of Kobo Clara HD?
One of the prominent features of the Clara HD is an E-Ink Carta HD display with 300 PPI display. It also has a 1GHZ Freescale Solo Lite processor which makes navigating through this device sleek. Additionally, its RAM size is 512MB while the internal storage size is 8GB. Kobo put a stop to its expandable memory hence there is no Micro SD slot on the Clara HD.
It gets more interesting when you talk about the lighting system because avid readers making a switch from reading paperback to ebooks are concerned about the safety of their eyes. Clara HD makes use of 8 white LED combined with Comfortlight PRO system with 7 orange LED. The auto brightness feature on this device is completely optional and you can turn it off altogether. CLEARink is proposing a new technology that might replace the current LED screens.
What Is Underneath The Beautiful Design Of Amazon Kindle Oasis?
The Kindle Oasis is larger than the Clara HD and definitely a perfect reply to their competitor. Kindle Oasis features a capacitive touchscreen display that has a resolution of 1680 x 1264 and 300 PPI. Its dual-core 1GHz processor in combination with a 512 RAM gives it a tremendous speed in terms of navigation and accessing the store. Unlike the Clara HD which is only available with 8GB storage, Kindle Oasis readers can choose between 8GB and 32GB. Those who listen to lots of audiobooks will find the 32GB handy.
The lighting of the new Kindle Oasis follows that of its predecessors which has ambient light sensors that adjust the screen brightness in response to environmental lighting. Its lighting system is composed of 12 LEDs to ensure uniform lighting across the screen. This also makes reading in the night easier. I find the light sensors and lighting system handy because it lets me read anywhere I want. The most talked about feature of the Kindle Oasis is the IPX8 rating which makes the device water resistant.
Why Choosing Between The Two Is Always Difficult?
I have used devices from both brands and one thing I have found extremely difficult to do is placing one brand over the other. Both have their strengths and weaknesses as well as similarities. For example, the Amazon Kindle Oasis lets you communicate with fellow book lovers. Kobo, on the other hand, lets you customize your own reading experience with its advanced features.
The Clara HD appears to be a fraction lighter than the Kindle Oasis—but it means a lot to me. Both have slide bars which can be used to customize font size, line spacing, text type, and weight and whole other. The remarkable difference in the two devices is seen in their prices. While Clara HD is available for $129, Kindle Oasis goes for $249—almost double the price of Clara HD. If you buy books regularly like me, you wouldn't mind ditching perks to increase your budget for books.